We at yathar have released a beauty treatment information service under the name "yathar Beauty," which includes hair and nail salon treatment, massages, and beauty salons
Press release
30 Jun 2020
We at yathar have released a beauty treatment information service under the name "yathar Beauty," which includes hair and nail salon treatment, massages, and beauty salons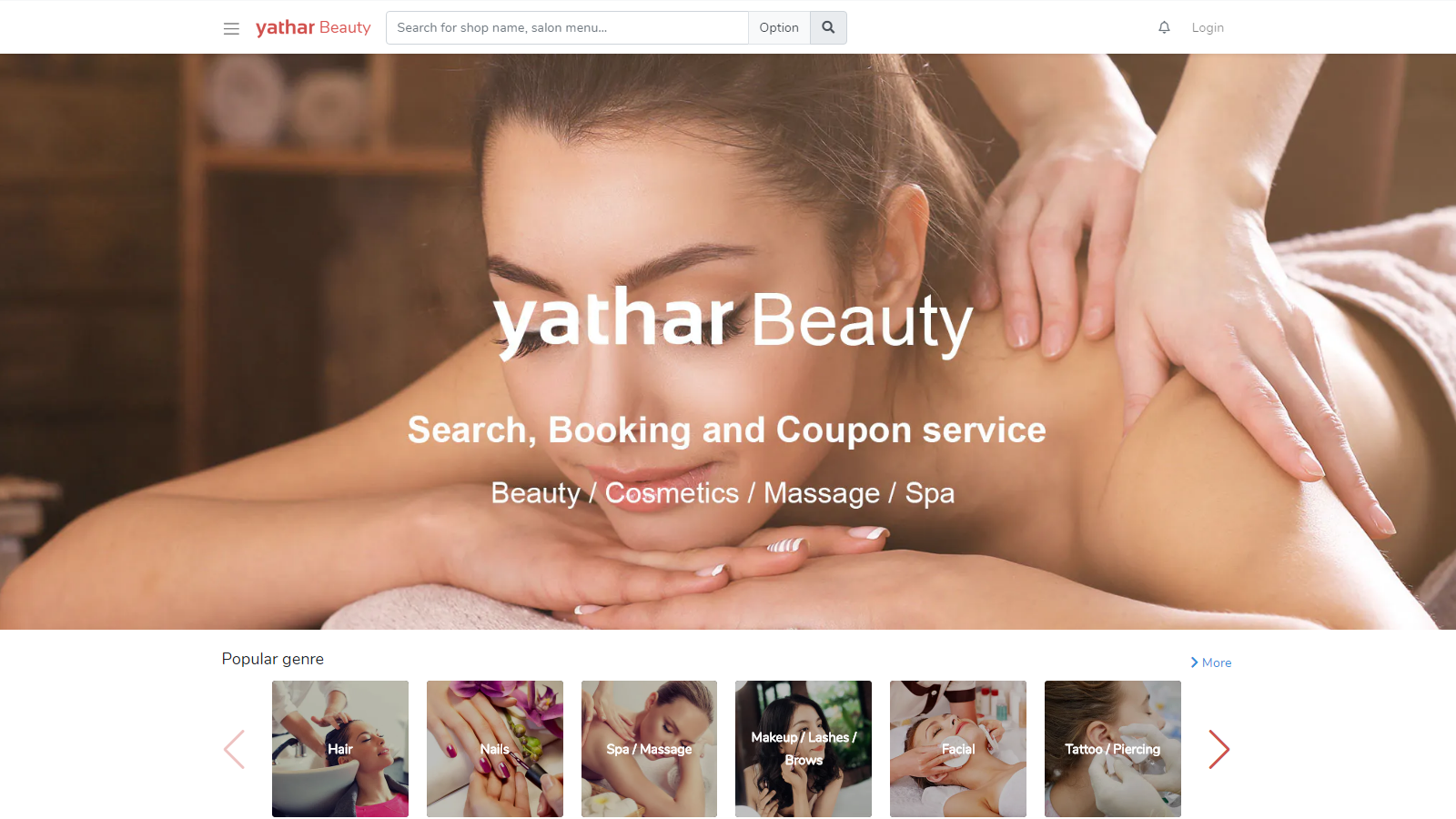 Yathar Myanmar Co., Ltd. (Main Office in the Republic of Myanmar (Myanmar)), which is a subsidiary of yathar Pte. Ltd.(Main Office in Singapore under its representative Shunsuke Ichikawa) has released "yathar Beauty", a platform where you can search for beauty salons, nail salons, massage therapy, and hair salons. It is possible to make reservations through the website and obtain discount coupons.
At the same time, we are also pleased to announce that we have integrated this platform with the previously released gourmet information platform "yathar". This integrated platform website was completely renewed.


Overview of the Service
Yathar Beauty is an online service where you can search, make reservations, and use coupons for shops that offer services such as beauty salons, nail salons, massage therapy, fitness, dental clinic, and hair salons. Users are able to browse the latest information about the stores, check reviews from customers who have used the stores, make online reservations, and obtain coupons, etc. from either the website or its app (coming soon). The owners of the shops and salons can access their control panel to promote their business and post information about campaigns they may be holding. In addition, an online reservation management system can also be introduced at minimal cost. Therefore, small and medium-sized stores and businesses, where the building and operation of such a system has become a bottleneck, can easily introduce our system.
Information on about 1000 stores has been posted since the start of this service, and by 2020, we plan to cover more than 95% of the stores in Myanmar.
[yathar Beauty]
https://yathar.com/beauty
Background of Myanmar and its Markets
In Myanmar, the cosmetic market is rapidly advancing due to an inflow of cosmetic products and beauty-related services due to the rapid economic growth of the country in recent years, an increase in the number of stores, and a growing interest in the beauty industry.
In such an environment, our gourmet service named "yathar", which was developed and released in advance of yathar beauty, has already become No. 1 by far in regards to the number of downloads and MAUs in Myanmar thanks to its approach towards the food service industry. Based on that data, yathar has decided to start providing similar services to the beauty and grooming industry, which as mentioned above is beginning to receive attention from consumers.
About the Renewal
With the release of this service, we have developed a system named the "yathar Borderless Platform" which has a completely renewed website,that allows users to freely select their country/region and language to use multiple services.
We are planning to use a UI (user interface) and UX(user experience) design for our gourmet service "yathar", "yathar Beauty", and other services that will be offered in the future, to allow all users to seamlessly enjoy multiple services regardless of nationality or language and improve the convenience of the platform that can be used any time and anywhere.
Company Overview
yathar Pte. Ltd.
- Location:8 Wilkie Road #03-01, Wilkie Edge Singapore 228051
- Representative: Shunsuke Ichikawa
- Capital: 895,000 USD
- Established: April 2020
yathar Myanmar Co., Ltd.
- Service name: yathar (meaning "taste" in Myanmar)
- Website:
https://yathar.com
- Location: No-17, 5 Floor, Kwat Thit Street, Kyi Taw Ward, Mingalar Taung Nyunt Township, Yangon, Myanmar
- Representative: Shunsuke Ichikawa
- Capital: 1,060,000 USD
- Established: February 2018